Bio Essence - Miracle Bio Water (REVIEW)
September 03, 2013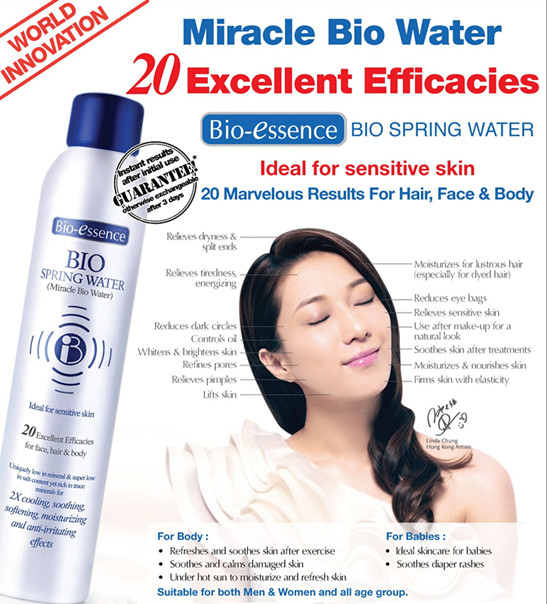 You can see, the other day I went for facial shopping spree and I found this thing call Miracle Bio Water. My friend introduce this to me and I've seen a lot of reviews saying it's good. So i'm gonna try it and I'll do a review about it!
I used to have oily and dark skin which makes my face not nice and my grandma always say my skin is not nice although I don't really have acne. But now, I found a remedy for my face! I used one day and the next day my grandma said, "you're face today looks nice". And I told her that I used Bio- Essence Miracle Water!
If you have the same problem like me, oily and dull skin, you can really try this as it helps me a lot! You can buy it from drug store like Guardian or Watson or beauty department in hyper market! It cost approximately RM 30 for 100 ml and 300ml for RM 60 and it could last for around 2 months even if you use it everyday!
There are 2 ways to use if you need to apply your daily cream. First spray an adequate amount to your face after cleansing and pat it dry. After it dry, apply your daily cream. Second way, after applying your daily cream let your cream set for a few minutes and spray an adequate amount to your face *DO NOT PAT IT DRY* your daily cream will smear.
After applying it, my face feel fresh and it's smoothen instantly!
I tried it on my hair and leg also. After 30 minutes you sprayed, hair result as shown in picture. FYI my hair are really frizzy! No pictures for my legs because you can't see the difference. But you definitely can feel it smooth. Lastly, if you wear make up, you can use this to set your make up and it will last longer.
Overall, I really love this and I thank my friend for introducing this to me :)
xoxo,